Chop shops are where stolen bikes are dismantled so that the parts can be sold or used to repair other stolen bikes. In Boulder, bicycle chop shops pop up in encampments.
The first step in creating a solution is to identify the problem. Following are photos and comments from Boulderites about the problem.
Please post your solutions in the comments below.
Comments from People on NextDoor
"Can we PLEASE immediately address the issue of the chop shops that degrade the land and ruin the beauty for all? This needs to become a priority, it simply can't be tolerated. Issuing tickets and allowing these people to simply move their stuff is fruitless. We need to have a committee that immediately goes out and throws the bike parts away. We need a law that protects the land."
"I have run by this place right behind the SW corner of the Justice Center(6th & Canyon)all week. More and more bikes each day. Where do you think these folks may be acquiring such a cache? Why is there no City oversight? Hmmm…."
"The city really doesn't give a shit about the tax paying, property owning or leasing residents. Case in point: $60 ticket for being 5 minutes over at a parking meter. That's a far bigger consequence than any of the violent, drug abusing criminals desecrating our public property have ever gotten."
"Yeah, they can get money out of you. They can't get any out of the transients. So, they don't bother them as much…"
"These are some of the pictures I took a few days ago behind the Justice Center along the creek path."
"None of the bikes we've had STOLEN and then recovered from chop shops needed to be fixed up. They don't get a cookie from me for committing crime. How's this for a solution: stop stealing bikes!"
"Cleaning up and RETURNING THE STOLEN PARTS TO THE RIGHTFUL OWNERS. Remember what council will be asking for this November– extending their seats on council by a year. Don't do it!! Get these folks out of council! The city is being ruined, not ruled."
"EXACTLY! we need to vote them out so do not vote to change council elections to years opposite general elections. This will be voted on in November. I dont want them in there any longer than their terms right now"
"I frankly hadn't realized how bad its become until we took some friends from out of town for a walk down the creek path on 4th of July weekend. I'm disgusted, embarrassed for Boulder, and I really feel for the folks who have to live near that (the area smelled like feces and I can't imagine what the fecal coliform levels will be like just downstream when the water levels drop). A man rode by us on an undersized bike and moments later someone yelled that he'd just stolen a child's bike… We walked on and came across what to me looks like a bicycle chop shop (see photo) at the east end of the children's fishing ponds. Right next to the creek path! What I didn't see was any law enforcement presence, at all. I realize that there are no great options, but doing nothing should not be among them."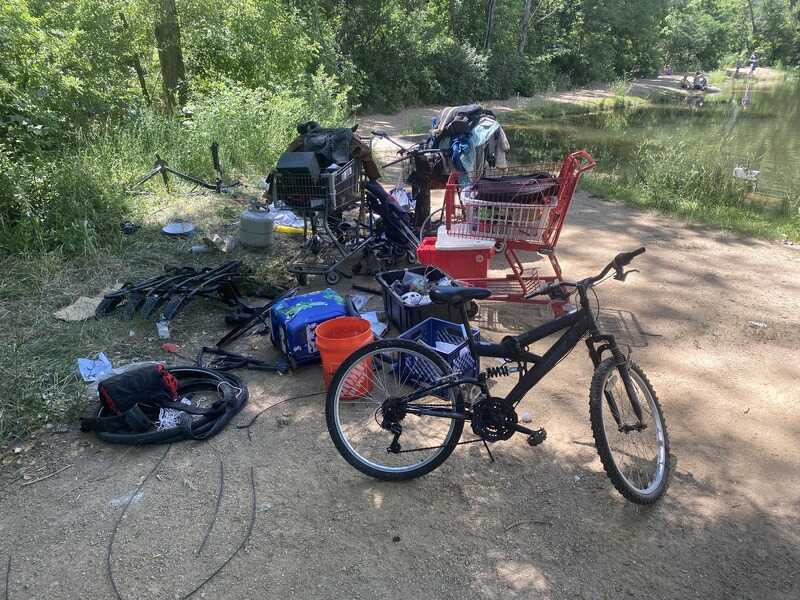 See more on NextDoor
https://nextdoor.com/p/XsnbkYWRfhsH/c/798317505?init_source=search&query=encampments
https://nextdoor.com/p/cwbwpgmMSBq-/c/799950668?init_source=search&query=encampments